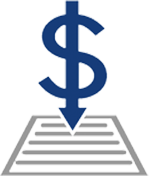 Questions?
888-519-1666
Monday-Friday
8:00am to 6:00pm MST
Books a Mess? No Problem!
As a small business owner you have more important things to do than to keep your own books. We take care of your books for you, so you can get back to the job of running your business and generating profits.
Not only do we keep your books, but we also do it using an effective cloud based solution. You can access your books anytime, anywhere across the globe. Now the information you need to make the important business decisions will always been at your fingertips.
For more information about our cloud based bookkeeping solution, please see here
Here's what you get...
Reconcilation of all your bank accounts and credit cards
Direct bank feeds so you don't have to send in bank statements each month
24/7/365 access to your up-to-date bookkeeping records
Monthly Income Statement
Monthly Balance Sheet
Monthly Statement of Cashflows
Yearly Financials Statements
Invoicing and billing capabilities
Unlimited Consulting